Are you in possession of a beautifully crafted bedspread that, after years of enjoyment, you would love to pass it down to a family member or a special person, but hesitate to do so, because the attached fringe has lost it's luster and the tassel yarns are untwisting, tangling and become matted? That is the result of the dry cleaning process or machine washed in warm water and tumble dried, and takes away from the overall looks of the otherwise beautiful bedspread. The Fringe Factory has addressed this problem and has developed a fringe that is not going to untwist (not cut) and should last the life of the bedspread. The entire length of the fringe (knots and tassels) is made from one (1) continuous length (never cut) yarn making the fringe as durable if not more durable than the bedspread or whatever other application.
All of our bedspread fringe below is made from ring spun 100% cotton yarn and the fringe is pre-shrunk. After selecting a fringe style, and if shown in one (1) color, it only requires selecting any one (1) color from the twenty four (24) color selection chart below and a fringe shown as having two (2) colors requires the selection of any two (2) colors from the same color selection chart below.
Applications: Matelasse bedspreads, Double fabric matelasse bedspreads, Chenille bedspreads, Comforters, Coverlets, Shams, Curtains, Curtain tie-backs, Drapes, Bedroom scatter rugs.
Change the appearance of your room and add color coordinating fringe to your bedspread, drapery, accent pillows and throw rugs.
Any competent seamstress should be able to replace a bedspread fringe with a double needle sewing machine rather easily or a single needle sewing machine taking more time and care.
We, at The Fringe Factory, take great pride in the "superior" quality of our products and "prompt service." We encourage emailing us any comments you may have that could be beneficial to everyone.
"Good Luck with your project."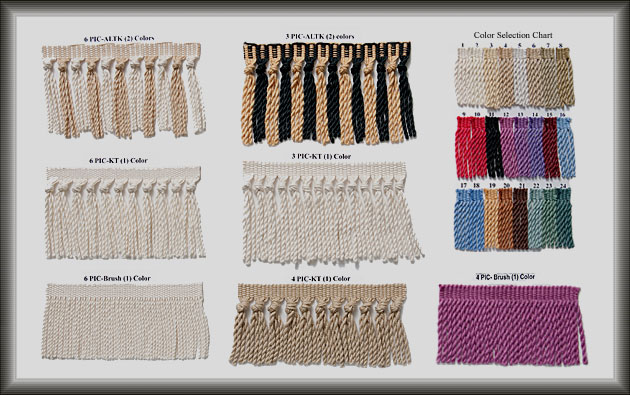 Above is a picture of an unfolded 15"x24" Turkish boullion brochure. All of our brochures are painstakingly hand assembled using fringe from our production line. There is no better way to assist you in the selection of fringe styles, colors, lengths, constructions and texture of yarns. Unfortunately the brochures are "labor intensive" and we must charge ten dollars for the brochure, a very small price to pay to eliminate guess work. If you are not completely satisfied with your brochure please return it for a full refund.